STRIKER
LITTLE BOY



Val	CHA	Cost	Roll	Notes


15/25	STR	5	12-/14-	Lift 200 kg/800 kg; 3d6/5d6 HTH Damage [1]
21	DEX	33	13-	OCV:  7/DCV:  7
20	CON	20	13-
10	BODY	0	11-
10	INT	0	11-	PER Roll 11-
10	EGO	0	11-	ECV:  3
15	PRE	5	12-	PRE Attack:  3d6
8	COM	-1	11-

22	PD	4		Total:  22 PD (15 rPD)
20	ED	1		Total:  20 ED (15 rED)
4	SPD	9		Phases:  3, 6, 9, 12
8	REC	2
40	END	0
30	STUN	2		

Total Characteristic Cost:  80





Movement:

	Running:	6"/12"
		Leaping:	3"/6"
		Swimming:	2"/4"



Cost	Powers & Skills


7	

Omihalcon Armor Suit:

  +10 STR, Reduced Endurance (0 END; +1/2); OIF (-1/2), No 
	Figured Characteristics (-1/2)

100	

Omihalcon Armor Suit Weapons:

  Multipower, 150-point reserve, all slots 
	OIF (Omihalcon Armor Suit; -1/2)
7u	1)  

Auto-Howitzer:

  RKA 2 1/2d6, Explosion (+1/2), Reduced Endurance (0 END; +1), 
	Autofire (3 shots; +1 1/4); Extra Time (Full Phase, -1/2), OIF (-1/2)
4u	2)  

High-Tensile Cutting Wire:

  RKA 4d6, Reduced Endurance (0 END; +1/2); 
	No Range (-1/2), OIF (Omihalcon Armor Suit; -1/2), Reduced Penetration (-1/4)

37	

Omihalcon Armor Suit:

  Armor (15 PD/15 ED), Covers All Locations But Location 
	"3" [face] (+0), Hardened (+1/4); OIF (-1/2)
8	

High-Tensile Cutting Wire:

  Stretching 3", Reduced Endurance (0 END; +1/2); Only To 
	Cause Damage (-1/2), OIF (Omihalcon Armor Suit; -1/2), Always Direct (-1/4), 
	No Noncombat Stretching (-1/4), Limited Body Parts (wires from armbands; -1/4)

	

Perks


1	Fringe Benefit:  Member of the Machiner's Platoon

	

Skills


16	+2 with All Combat

3	Climbing 13-
2	KS: Military/Mercenary/Terrorist World 11-
2	KS: Machiner's Platoon History and Customs 11-
0	Language:  English (idiomatic; literate)
2	PS: Soldier 11-
3	Stealth 13-
2	TF:  Common Motorized Ground Vehicles
4	WF:  Small Arms, Blades, General Purpose/Heavy Machine Guns



Total Powers & Skill Cost:  198
Total Cost:  278

150+	Disadvantages


10	Hunted:  Machiner's Platoon and MJ-12 8- (Mo Pow, NCI, Watching)
15	Psychological Limitation:  Bully (Common, Strong)
15	Psychological Limitation:  Casual Killer (Common, Strong)
20	Social Limitation:  Subject To Orders (Very Frequently, Major)
68	Little Boy Bonus
278	Total Disadvantage Points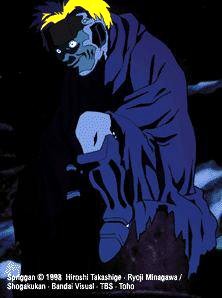 Background/History: Little Boy is Fatman's partner, and another member of the Machiner's Platoon.
Personality/Motivation: Little Boy is a brutal killer, and seems to be a bit of a bully, gleefully pushing around anyone he considers weaker than himself.
Quote: "heh, heh, heh... Bunch of losers... Do you think wimps like you could beat trained assassins?!"
Powers/Tactics: Little Boy's armored suit is the same as Fatman's (and Yu Omine's) but doesn't seem to grant him the same level of strength as it does for either. He is fairly quick, but ends up no match for Jean Jaquemonde, who manhandles him seemingly without effort in their fight.
Little Boy tends to use his auto-howitzer, unless dealing with a single target, in which case he will use his high-tensile cutting wires.
Appearance: Little Boy is of average height, with a thin build and a fairly ugly face. He wears a full suit of omihalcon armor, with a loose poncho over that.
Little Boy's Hero Designer File
(Little Boy created by Hiroshi Takashige and Ryoji Minagawa, character sheet created by Michael Surbrook)
---
---
Return to Anime and Manga Character Adaptations