VENDETTA RHAPSODY
And Did They Get You To Trade Your Heroes For Ghosts?
Hot Ashes For Trees?
Hot Air For A Cool Breeze?
Cold Comfort For Change?
And Did You Exchange A Walk On Part In The War For A Lead Role In A Cage?
Wish You Were Here


Pink Floyd
In a world all too similar to our own, the the line between good and evil is fading away, and new battle lines are being drawn, with a few would-be heroes standing in the cross-fire.
---
BACKGROUND DATA
CHARACTERS
STORIES
---
PICTURES
Current Player Characters
Former Player Characters
ICoMp Personnel
Second Syndicate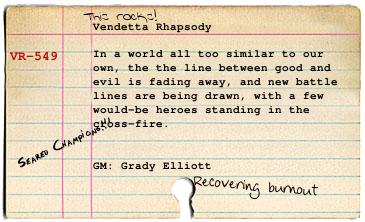 Independents
Retired or Deceased
Other

---
---
Return to the HERO System Worldbooks
Surbrook's Stuff is maintained by webmaster Michael Surbrook. If you like what you see, please send him your comments about the page.